DIRECT TO STEEL APPLICATION
MINING, TRANSPORT, OFFSHORE PYLONS and MARINE
This extra hard (62 Shore D) pure polyurea can be applied directly to blasted steel without the need for priming. Due to its internal strength and proprietary adhesion promoters, Tufflon-D60 exhibits extraordinary strength and high adhesion of 14 MPa to prepared steel. With superior protection against wear & corrosion and nearly 200% elongation.
Tufflon-D60 will accommodate movement in steel or aluminium substrates without cracking, debonding or flaking. It is also ideal for protecting concrete floors in warehouses from pallets with protruding nails that would rip and tear softer polyurea products.
Tufflon-D60 premium pure polyurea should be the product of choice by engineers and project leaders for protecting expensive steel & aluminium assets such as heavy transport tippers, rail cars, ocean pylons, pipelines and many other applications.
Tufflon-D60SL variation incorporates a slip additive to help facilitate the early release of bulk dry and slurry loads in road and rail tippers. See separate TDS below.
Applications for Tufflon-D60
Pipeline protection for mining and gas operations
Heavy vehicle tipper, rail car and marine lining - resists abrasion, corrosion and impact
Protecting steel mining assets against wear and corrosion
Transport and marine applications
Ute linings
Steel castings for mining applications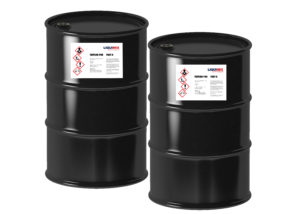 SIZES AVAILABLE
425kg DRUM SET
42.5L PAIL SET
Video below of Hydraulic Pull-off test showing 14 MPa adhesion of Tufflon-D60 to Steel.
| | |
| --- | --- |
| MIX RATIO | 1:1 with Graco high-pressure, heated, impingement-mix, equipment |
| PROCESSING TEMPERATURE | 63-65C° |
| PROCESSING PRESSURE | 2000-2500 psi |
| HARDNESS | 62 (Shore D) |
| ELONGATION | 150% |
| ABRASION | 15 (mg lost) |
| TENSILE | 21.6 (MPa) |
| TEAR | > 12 (MPa) |
Smooth and seamless easy-clean lining

Will not flake, peel or blister