GENERAL-PURPOSE PURE POLYUREA WITH A WIDE VARIETY OF APPLICATIONS
Tufflon-P80 is a two-component, spray-applied, pure-polyurea elastomer coating that is softer than both Tufflon-P90 and Tufflon-D60 and exhibits less shrinkage and faster development of full strength. This faster development of physical properties (particularly tear strength) makes it more suitable for use in colder climates.
Of the Tufflon range, it has the longest history of use throughout Australia and New Zealand and exhibits a uniform and even spray pattern when applied through Graco Reactor equipment and Fusion gun.
Most polyurea products shrink by about 1% within the first 30 minutes of application and take up to 8 hours to develop high strength. Tufflon-P80 shrinks by only 0.5% and toughens up much faster, making it particularly suitable for use on substrates with high expected movement within the first 8 hours of application such as geofabric and rooftop expansion joints. Where other polyureas can be torn apart, Tufflon-P80 withstands the stresses involved during the initial shriking on geofabric and expansion joints.

APPLICATIONS FOR TUFFLON-P80
Concrete and steel
Sewerage and water assets
Potable water facilities
Tanks
Lagoon and pond lining
Sewerage treatment plants
Water facilities
Over Geofabric
Rooftops
Carparks
Bridge decks
Chemical containment bunds
Marine applications (boats / catamarans)
Pools and Ponds
Garages
Trailers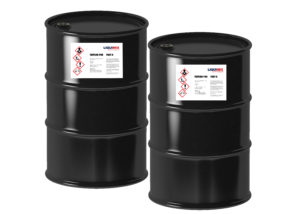 AVAILABLE SIZING
425kg drum set
42.5L pail set
| | |
| --- | --- |
| MIX RATIO | 1:1 with Graco high-pressure, heated, impingement-mix, equipment |
| HARDNESS | 80 (Shore A) |
| ELONGATION | 427% |
| ABRASION | 50 (mg lost) |
| TENSILE | 16.5 (MPa) |
| TEAR | 4.9 (MPa) |
Bridges hairline concrete cracks

Can tolerate heat up to 120°C

Smooth and seamless easy-clean lining

Great for use in cold climates

Will not flake, peel or blister