CIVILOX – LATEST GENERATION 100% SOLIDS  TWO-PART EPOXY
Fast 3-hour dry time
Bonds strongly to damp, green and oily concrete
Ultra-low viscosity allows penetration deep into the concrete
100% solids, solvent-free (confined space safe)
Ideal for concrete and metal substrates
Mix with Renderfill or Patchfill for rendering or patch repairs
Resistant to amine blush and bloom
The primer of choice for polyurea
Civilox is a unique, two-part, epoxy system available in two versions.
Civilox-18 – 100% solids with a resin to hardener mix ratio of 1:0.8 by volume. Approved for potable water in conjunction with Tufflon.
Civilox-11 - simple mix ratio of 1:1.
Civilox-18 is favoured for use in confined spaces where zero VOC's is mandatory.
When epoxy rendering large areas of exposed aggregate, mix 1-part Civilox-18 or Civilox-11 with 2.5 - 5 parts of Renderfill to the consistency of your choice.
Based on the same phenalkamine chemistry, both versions offer the same benefits of low viscosity, fast cure, ability to adhere strongly to damp and green concrete.
Designed specifically for priming concrete and metal substrates prior to coating with Tufflon, Elaston or other polyurea systems, Civilox is ideal for use in water, wastewater and sewerage infrastructure.
Both versions are highly resistant to blush, even when used under extreme conditions. They adhere strongly to difficult substrates such as inorganic zinc primer and galvanised steel.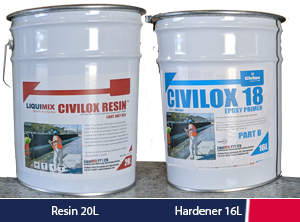 Premeasured Packaging                                        Bulk Packaging
Available to purchase in 36L pail kits or smaller ready-to-use pre-measured kits
See Liquimix Graco XP70 Plural Component Sprayer in action below being used to automatically meter, heat, mix and spray Civilox-18 (1.25 part Epoxy to 1 part Hardener) to the inside of a shipping container. This is a primer coat before Tufflon-P80 is applied.