Complete e-Xtreme EX45 Electric Airless Sprayer with Hose and Gun, Cart-Mount, Integrated Filter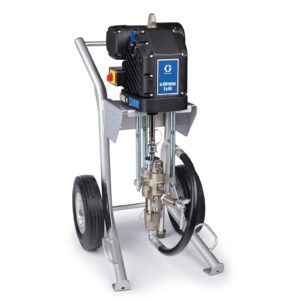 The Graco e-Xtreme™ Electric Airless Sprayer is the world's first electric sprayer for protective coatings approved for hazardous locations. The e-Xtreme sprayer operates on a more reliable, convenient and available electric power source, which rectifies job site inefficiencies associated with compressors. Furthermore, electric technology reduces pulsation and prevents motor icing, making your jobs run smoother every single time.
The electric solution for spraying protective coatings
Electric - When wired correctly, electric power is safe, reliable and convenient for you and your customers. If your air compressor stops working, you no longer have to stop production. The days of essential maintenance on large-scale compressors are over.
No Icing - By eliminating the need for an air motor, it is possible to avoid all icing problems. Icing may be more prevalent in conditions with a high level of humidity, resulting in a slowing of the motor and loss of pressure which can be detrimental to your production rates. The e-Xtreme sprayer is an electric solution that will keep you spraying at the pump's maximum potential.
Reduced Noise - No matter the application, noise exposure can dramatically affect your working conditions. The quiet electric motor improves working conditions significantly. When compared to an air motor, the e-Xtreme sprayer is up to five times more quieter.
Plug-in & Spray -The e-Xtreme sprayer runs on 240V/16A power. Able to handle Graco's most popular tip sizes and with a smooth pattern thanks to the low rate of pulsation. You will notice the smooth pattern at the gun. Capable of spraying most high-solid coatings – it is sure to quickly become your go-to sprayer!
ATEX approved -Get the job done safely: compared to other electric sprayers, the e-Xtreme sprayer is approved for hazardous locations. ATEX, IECEx, and Class 1, Div. 1 approvals* mean this sprayer can be used in chemical plants, paint shops, refineries and off-shore, or in any location where generating a spark is of concern.
Energy Savings -With improved efficiency and an overall lower cost of ownership, the e-Xtreme sprayer is the most cost-effective solution when compared to pneumatic airless sprayers. The sprayer saves up to 80% of energy costs when compared to an air operated sprayer*. By removing the need for an expensive, heavy air compressor - you can stay productive by using the most reliable power source available – electricity! *Study completed on pump pressure of 241 bar (3500 psi) for 20 hours/week; spraying 1226 L (324 gal) of 73% volume solids epoxy with XHD519 tip
Three-year warranty -Every piece of equipment we manufacture comes with one of the industry's strongest warranties. e-Xtreme sprayers offer a three-year warranty on the gear train, chassis, and electric motor. Electronics cover and all other e-Xtreme sprayer driver parts are covered by the standard one-year warranty. See product manual for specifics on all warranty information.