GRACO FIBREGLASS EQUIPMENT
GRACO GEL COAT SYSTEM
Graco's gelcoat system offers you assurance that you achieve a high quality end product. By purely using Graco components that are proven in multiple industries, you will have a solution that is technologically advanced, durable, precise and long lasting.
Optimized ratio stability
*Available in 9:1, 13:1 and 17:1 pump ratios.
*Adjustable ratio catalyst pump - no tools are required for a quick and easy ratio change.
*Precision engineered linkage offers you superior ratio control and consistent cure
Lower cost of ownership
*Easy maintenance - fewer repair parts
*Long lasting seals mean less downtime
*Pumps last longer between planned maintenances
*No surge bottle necessary, less parts, solvent and resin needed to prime the pump
Optional DataTrak™ Control
*Monitors resin usage - Helps ensure product quality by tracking resin usage per piece, shift or day
*Tracks cycles for preventive maintenance schedule
*Displays real time flow rate - eliminates material waste due to worn spray tips
RS GEL COAT GUN 
Innovations engineered into the Graco RS Gel Coat Gun are sure to make a difference in your production uptime. It's lighweight, ergonomic, designed for tool-less operation and fast, easy maintenance as well. It's available in internal and external mixing gelcoat spray guns.
Air Assist Containment
The Graco RS Gelcoat spray gun delivers an excellent spray pattern with its Air Assist Containment (AAC) technology. AAC wraps the spray pattern in a containment shield of air - preventing atomized droplets from escaping the spray pattern.
AAC creates a spray pattern where the droplets travel to the mold at very low pressure. The low speed or "particle velocity" creates very little turbulence or disturbance in the liquid when the droplet makes contact with the mold, increasing the transfer efficiency. AAC spraying dramatically reduces the chances of air entrapment and porosity.
Fast switch tip design - MACT compliant technology
Todays gelcoat market uses 2 different technologies. Mechanical Air Atomized (Air Assisted Airless) and Mechanical Non-Air Atomized (Impingement). Using the RS guns allows you to switch from one technology to the other by simply changing the spray tip. This can be done quickly and cost effectively.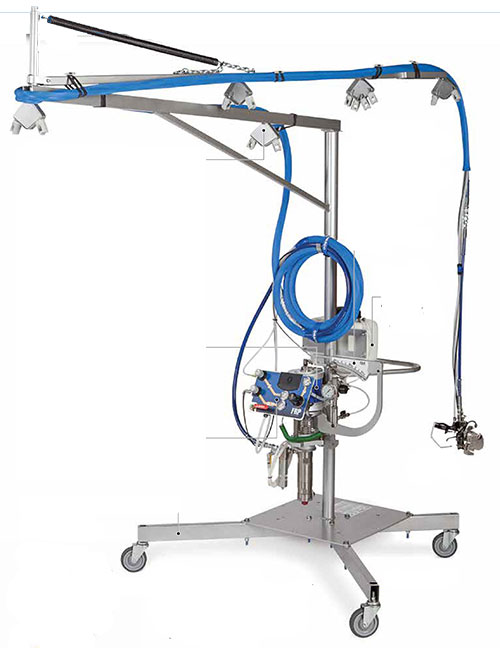 GRACO ROVING MANAGEMENT SYSTEM
The Graco Roving Management System 
• Better guides— less tangling, more uptime
A gravity fed catalyst system
• Keeps the catalyst pump primed for consistent delivery
New linkage and catalyst pump. 
• Truly engineered linkage for superior ratio control
• Allows for infinite adjustment of catalyst percentage — no tools required
• Ensures proper catalyst percentage and optimum results
• Variance of 1% or less
Balanced Graco NXT®Air Motor
• Provides same output pressure on upstroke and downstroke, resulting in more consistent spray pattern
• Shortened stroke on pump for better spray pattern
Control Panel
• Easy user interface with all gauges in one location
Stable, Lightweight Cart
• Easy to maneuver
• Strong, durable casters
Optional DataTrak™ Control
• Monitors resin usage — Helps ensure product quality by tracking resin usage per piece, shift or day
• Tracks cycles for preventive maintenance schedule
• Displays real time flow rate — eliminates material waste due to worn spray tips
FEATURES
• More consistent spray pattern
• Resin usage monitor
• Linkage and tool-free catalyst adjustment