TUFFLON-D60 SL | CASE STUDY
TRAILER APPLICATION
SLIP ADDITIVE
Date of Project
June 2019
Substrate Material
Steel
Type of Asset
Trailer
Location of Asset
Queensland, Australia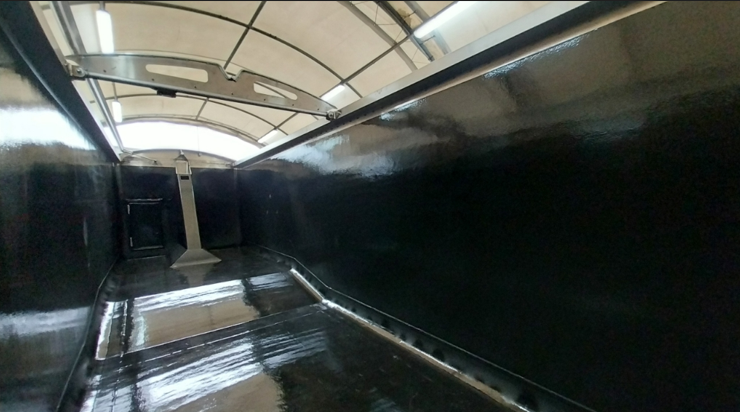 ---
The LiquiMix team was approached by a client seeking a protective coating system for their steel trailers that needed to facilitate the early release of bulk dry and slurry loads. The coating system had to seamlessly line the textures of the substrate and give an extremely durable, slippery finish to allow for the movement of the cargo from the trailer to its destination.
The requirements stated that the coating system would need to be resistant to a wide range of chemicals, including organic acids found in fruit pulp waste. It also needed to facilitate the early release of bulk dry and slurry loads. We recommended Tufflon-D60SL for its superior rapid-set, elastomeric, and abrasion-resistant properties. Tufflon-D60SL is a pure polyurea with a high-slip additive for the heavy tipper market to allow for easy movement without damaging the cargo or the substrate.
According to the end user, the coating also provides the following benefits compared to its counterparts (HDPE sheet membranes or similar) :
The application of polyurea is much cheaper than HDPE installation and oftentimes costs half as much.

The application of polyurea can be a lot quicker than standard bolt-on sheet membrane. A Tipper can be primed and sprayed in one day and put back in service the next day if organised properly.

The coating is a lot easier to wash and clean as there are no joints, bolt holes, gaps, or areas where the media can pond and create issues.

From a protective standpoint, polyurea coatings can offer much better longevity in comparison to all other available coatings.