Tufflon-JF90 (Joint Filler)
JOINT FILLING PURE POLYUREA
The latest joint-filling technology, using rapid-set, high-strength, pure polyurea to protect concrete floor expansion joints from damage is now here.
Designed by Australia's leading industrial chemists and made under ISO9001, Tufflon-JF90 Joint Filler offers asset owners a solution to the problem of concrete floor slabs having the edges of construction and expansion joints damaged, broken and chipped. It does this by combining extremely high, load-bearing physical properties with a permanent elasticity of 430% and a vice-like grip to the vertical concrete surface of the joint. This allows Tufflon-JF90 to not only support the edges of the joint but to also stretch and contract in order to accommodate the daily cyclical movement of the slabs.
This highly-modified, pure polyurea Tufflon-JF90, is in a class of its own by combining these three amazing properties in the one product.
APPLICATIONS FOR TUFFLON-JF90 JOINT FILLER
Joint filling
Stress crack filling
Suitable for very heavy loads (return to service within hours of application)
Failure to properly seal or fill concrete floor expansion joints, allows water, debris and harsh contaminants to fill these critical engineered structures, which can cause premature wear and tear to the concrete. When installed by experienced tradesmen, Tufflon-JF90 filled joints can be returned to service in just over 60 minutes. Fast to install, fast to cure, it forms a permanently elastomeric and tough load-bearing joint with high physical properties that cannot be matched by standard single component polyurethane joint sealant. When time is money, there is no other system that can match the speed of installation and quick return to service of Tufflon-JF90 polyurea joint filler.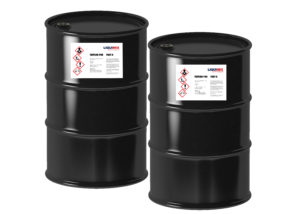 SIZES AVAILABLE
425kg DRUM SET
42.5L PAIL SET
Features of Tufflon-JF90 (Joint Filler)
Continuous pour of up to 8 liters per minute, through Graco plural equipment, allows a rate of joint filling not possible using other traditional methods

Fully cures at temperatures as low as -30°C. Suitable for sealing and filling concrete floor construction and cold joints in commercial cold rooms and freezers

Resistant to a wide range of Alkalis, weak acids and other chemicals. Contact LiquiMix for approval of use with specific service conditions.*

Suitable for very heavy loads
Contact us today about JF90