Tufflon-P90AS (Mine Certified)
ANTI-STATIC PURE POLYUREA WITH A HIGH HARDNESS SUITED TO MINING OR CHEMICAL APPLICATIONS
(MINE CERTIFIED)
MINE SAFETY APPROVED TO MDG 3608,3.3.1.3
Tufflon-P90AS is most suited for any protective coating application where the prevention of electrostatic discharge is vitally important.
With all the characteristics of the Tufflon-P90 such as high hardness, permanent elasticity, corrosion/abrasion and chemical resistance, Tufflon-P90AS has the added benefit of preventing electrostatic discharge.
This is a two-component, 100% solids, spray-applied, elastomeric protective coating that is free of solvents or partially soluble diluents such as Propylene Carbonate.
Specialised, high-pressure, heated, plural proportioning equipment, fitted with an impingement mix, airless spray gun is required to apply this product.
APPLICATIONS FOR TUFFLON-P90AS
Anti-static lining for flammable / explosive environments
Flammable liquid and fuel secondary containment
Protective coatings for hazardous environments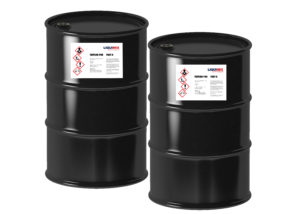 AVAILABLE SIZES
425kg DRUM SET
42.5L PAIL SET
| | |
| --- | --- |
| MIX RATIO | 1:1 with Graco high-pressure, heated, impingement-mix, equipment |
| PROCESSING TEMPERATURE | 65C° |
| PROCESSING PRESSURE | 2000 psi |
| HARDNESS | 90 (Shore A) |
| ELONGATION | 430% |
| ABRASION | 58mg |
| TENSILE | 16.0 MPa |
| TEAR | 98 N/mm |
Features of Tufflon-P90AS (Mine Certified)
Contains no volatile or flammable solvents or catalyst

High resistance to chemicals

Remains permanently elastomeric

Withstands temperatures up to 120°C

Application not affected by temperature or moisture

Will not flake, peel or crack