SPRAY POLYUREA ELASTOMER - 90 SHORE A HARDNESS. USED FOR SEALING AND PROTECTING ALL CONCRETE ASSETS INCLUDING DRINKING WATER RESERVOIRS, TANKS, SECONDARY CONTAINMENT (BUNDS) AND INDUSTRIAL FLOORING
With its high hardness and over 400% elongation, Tufflon-P90 pure polyurea exhibits high abrasion and corrosion resistance with exceptional adhesion to well-prepared surfaces.
Tufflon-P90 has a long and successful history of safely protecting the inside of dozens of concrete and steel drinking water municipal reservoirs throughout Australia. When used in conjunction with Civilox LV100 penetrating epoxy sealer and HB200 epoxy primer, Tufflon-P90 is certified safe for contact with drinking water to AS4020-2005. Finished with a smooth, continuous, cream-coloured, easy to clean surface and strongly bonded to the substrate, Tufflon-P90 has an expected 20+ year service life without blistering, debonding, cracking or flaking.
Made in Australia under ISO 9001, Tufflon-P90 has the history and credentials to offer the asset owner long-term protection for the inside surfaces of major municipal drinking water storage assets.
Tufflon-P90 has many other uses such as lining chemical storage bunds, animal enclosures, crocodile ponds, steel and aluminium tippers, rail cars, pipelines, sewerage treatment plants, petrol-station forecourts, fuel storage bunded areas, trafficable car decks etc.

APPLICATIONS FOR TUFFLON-P90
Potable water reservoirs
Potable water tanks
Chemical storage bunds
Steel and aluminium tippers
Rail cars
Pipelines
Sewerage treatment plants
Service station forecourts
Fuel storage bunded areas
Trafficable car decks
Crocodile ponds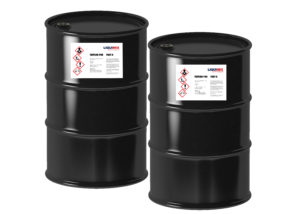 AVAILABLE SIZING
425kg drum set
42.5L pail set
| | |
| --- | --- |
| MIX RATIO | 1:1 with Graco high-pressure, heated, impingement-mix, equipment |
| HARDNESS | 90 (Shore A) |
| ELONGATION | 430% |
| ABRASION | 58 (mg lost) |
| TENSILE | 16 (MPa) |
| TEAR | 9.6 (MPa) |
High hardness (Shore 90A)

Protects from chemical attack