TUFFLON® and Elaston® polyurea
WHY CHOOSE LIQUIMIX POLYUREA ?
Australian made under ISO 9001 — Consistent Quality Guaranteed
20-year history
Warranty with Liquimix Technical Support
AS/NZS 4020 - Potable Water
AS/NZS 4858 - Class III - Waterproofing
MDG 3608.3.3.1.3 - Mining Certified Antistatic
Flame Retardant grades (with test certificates)
Super Slippery, hard-wearing grades for early release in Heavy Transport tippers
Contains no partially soluble or undesirable diluents
Competitive pricing
Colourtuff — Aliphatic polyurea for beautiful, colourfast linings
Hybron — Hybrid, low-cost polyurea
Various colours available
Pack sizes — 425kg drum kit, 42.5kg pail kit
Liquimix is a major Graco Reactor plural spray equipment distributor.
---
Tufflon® pure polyurea comes in several grades, with each suited to a particular application. Each hi-tech polyurea grade exhibits outstanding abrasion and corrosion resistance, coupled with permanent elasticity, making these products (in conjunction with our Civilox® primer) the perfect lining system for protecting concrete and steel assets.
Elaston® is a pure polyurea optimised for waterproofing membrane system and spray coating applications through small portable Graco Reactors. Unlike polyurethane waterproofing coating products, Elaston® is insensitive to moisture in the substrate and won't blister or crack, making it ideal as a polyurea roof coating spray or polyurea floor coating system. This hi-tech polyurea sealant is permanently elastomeric, chemical-resistant, abrasion-resistant and has a much longer lifespan than any other comparable aliphatic or aromatic polyurea waterproofing product on the market.
Derived from the original spray polyurea developed by Texaco in the 1980s, there's no other pure polyurea range in the world with such a long and successful history of use. Designed for abrasion, corrosion, impact and chemical resistance, bunding (bund wall or bunded area), waterproofing and permanent immersion, Tufflon® protects for the long term.
CHOOSING THE CORRECT GRADE OF POLYUREA: 
Choosing the right grade of polyurea isn't as simple as choosing one product for one application, for example, a polyurea primer for a roofing application or a polyurea resin as a spray-on protective coating. While all Tufflon® and Elaston® polyurea exhibit the properties listed below, slight variations in formula provide subtle differences that need to be considered. Differences might include hardness, elongation, time to develop full physical properties, tear strength, budget and more.
Wherever you're located in Australia, we can deliver the right industrial polyurea solution for your specific needs. Looking for a hi-tech polyurea coating for sale or unsure which LiquiMix product best suits your project, for example, polyaspartic polyurea coatings vs epoxy floor coatings? Contact LiquiMix for a proper assessment of the requirements for your project.
Tufflon® and Elaston® are:
Bridges hairline cracks in concrete

Excellent adhesion to concrete or steel

Won't blister, crack or peel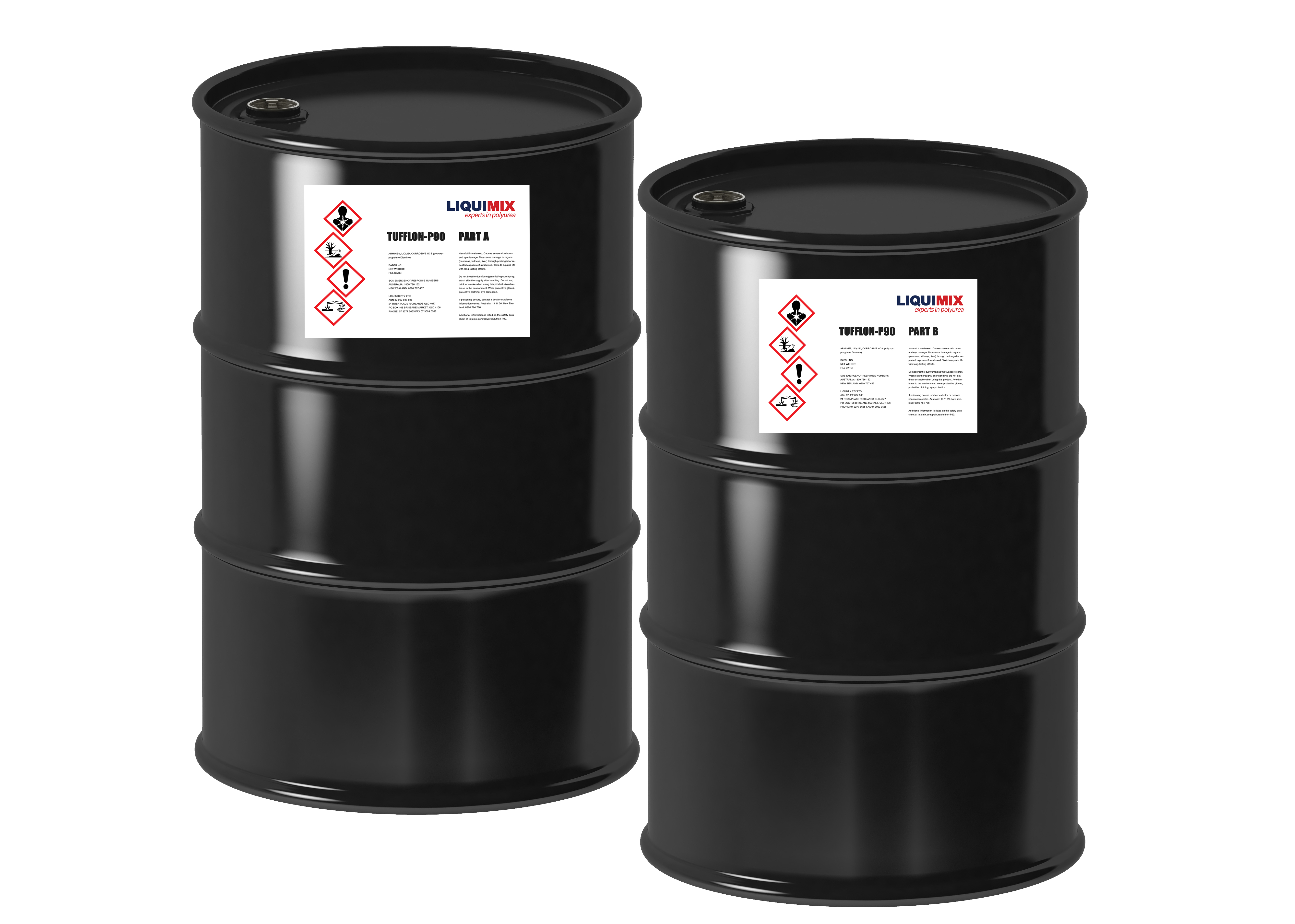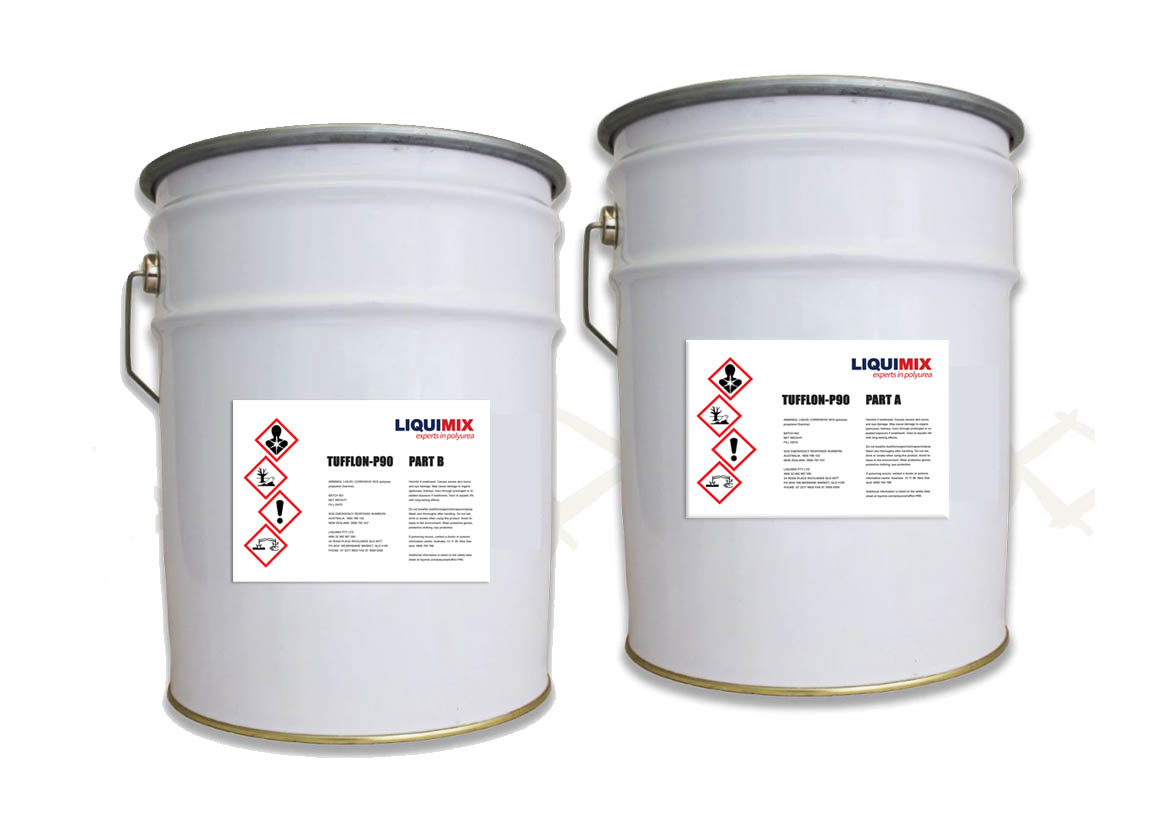 What makes Tufflon® unique? 
PROVEN TO PERFORM
The Tufflon® system has a long and successful 10+ year
history of use in lining drinking water reservoirs. No other


pure

polyurea

has such a strong and reliable track record.
TUFFLON® CONTAINS NO UNREACTIVE DILUENTS


Diluents are often used in cheaper

polyurea

waterproofing coatings

and

can contribute to poor performance, especially in permanent immersion

applications

. Tufflon®

won't

blister under water

.
BONDS STRONGLY TO DAMP CONCRETE
The Civilox® epoxy / Tufflon® polyurea system bonds strongly
to damp concrete.
FAST RETURN TO SERVICE
Due to the system's fast cure, the asset can be returned
to service, often after only several hours.
What makes Tufflon® unique? 
PERMANENT ELASTICITY
With high elongation greater than 400%, Tufflon® bridges
hairline cracks, expansion joints and will tolerate subtle
movement in the substrate without cracking, flaking or
peeling.
LOW TEMPERATURE CURE
Most drinking water reservoirs are emptied during
winter months when demand is low. The Civilox-18 /
Tufflon® system will fully cure under these cold, damp
conditions.
AS/NZS 4020:2005
The Civilox-18 / Tufflon® system has passed all
requirements of the potable water standard.
CHEMICAL RESISTANCE
Tufflon has high resistance to chemicals typically found
in waste water, sewerage and secondary containment. See our
chemical resistance chart below.
Tufflon P90
Pure polyurea - Medium hardness, potable water grade and general purpose.
Tufflon P80
Pure polyurea - Excellent all rounder with a long history of use. Use on Geofabric.
Tufflon D60
Pure polyurea - High hardness, high adhesion for anti-corrosion on steel.
Tufflon P90AS
Pure polyurea - antistatic version of Tufflon-P90, for use in explosive and flammable environments.
TUFFLON AL90
Colour-stable, Aliphatic pure polyurea used where aesthetics are of high importance.
Tufflon JF90
Pure polyurea - Joint filling structural polyurea.
Elaston W80
Pure polyurea - Waterproofing grade. Low viscosity for easy processing.
HYBRON W90
Hybrid polyurea - Medium hardness economical grade.
Polyurea applications in action: