BUDGET GRADE HYBRID POLYUREA
Hybron® is a 100% solids polyurea / polyurethane hybrid spray elastomer with outstanding abrasion resistance and strong adhesion to both steel and concrete. It is produced to be more competitively priced than pure polyurea for specific markets.
With a proven history of use it is suitable for some applications - especially due to its superior abrasion resistance.
It must be noted that Hybron® does have its limitations and is not recommended for most applications, particularly those in the water industry, tank lining and permanent immersion. Contact LiquiMix to discuss your project to determine the right product and methodology.
Made in Australia under ISO9001 and formulated specifically for Australian conditions.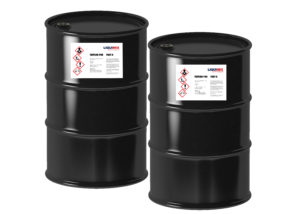 SIZING AVAILABLE
425kg DRUM SET
42.5L PAIL SET
| | |
| --- | --- |
| MIX RATIO | 1:1 with high or low pressure equipment |
| HARDNESS | 90 (Shore A) |
| ELONGATION | 450% |
| ABRASION | 11 (mg lost) ASTM D4060-10 Taber (CS-17, 1,000g, 1,000 cycle) |
| TENSILE | 18.6 (MPa) ASTM D412-06ae2 |
| TEAR | 9.6 (MPa) |
| PUNCTURE | 54.4 (kgf) CNS 14263-(1998) Test index of puncture resistance |