The EcoQuip 2 EQp is a portable, powerful blasting equipment.
Prepping a surface can be challenging and time consuming, especially if you are removing layers of paint or other coating products that have been there for decades. Grinding, scraping applying heat and using chemicals are hard work because the same binders that cause paint to adhere also make it hard to remove. At the end of the day it's about finding the best machine to get the job done quickly and as quietly as possible.
Whether you plan to remove graffiti and paint or clean and prep a surface, it's time to consider an alternative to your pressure washer, chemical cleaners or hand tools and use a machine that gets the job done quickly and effectively.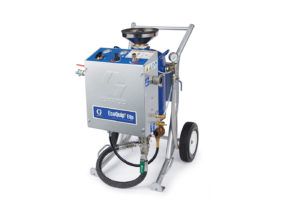 Steel and concrete surface preparation

Wood, concrete, steel cleaning

Iron fence and railing preparation

Stone and stucco stain removal