WATERPROOFING GRADE PURE POLYUREA


ENVIRONMENTALLY FRIENDLY
Elaston-W80 waterproofing polyurea is tougher than any waterproofing membrane on the market. It is quick to apply and sets in seconds to form a thick, seamless and continuous lining that has a vice-like grip to almost any surface. It can be applied to vertical surfaces without dripping or running and is highly elastic with over 400% elongation. This elongation allows it to stretch to accommodate movement in the substrate without splitting or cracking.
One of the biggest advantages of Elaston® is its insensitivity to a less-than-perfect substrate. Elaston® will never blister if applied over slightly damp concrete, unlike many polyurethanes on the market.
Products such as torch-on or modified bitumen, acrylic emulsion, polyurethane, liquid rubber, polyester resin, fibreglass and many other types of membranes have been widely used traditionally in the waterproofing market.
Elaston-W80 made simple with the REACTOR E-10hp
Now with Graco's newly released Reactor E-10hp, waterproofers have an economical and superior alternative to traditional membranes. The amazing E-10hp can easily be wheeled through doorways, into lifts, down hallways and into bathrooms.
When fitted with the correct spray nozzle there is no overspray and no fumes as polyurea is a 100% solids product and contains no solvents or VOC's. Elaston polyurea is made in Australia under ISO9001 by one of the world's largest chemical suppliers and is a pure-polyurea by definition of the PDA. Each batch is tested for quality and a sample retained for future reference.
Since 2001 Elaston-W80 waterproofing polyurea has been used on many thousands of square meters of waterproofing and is now teaming up with the newly released Graco E-10hp to deliver safe, affordable and fast spray applied linings. LiquiMix is changing the face of waterproofing by forcing prices down while offering outstanding value and state-of-the-art systems. We offer our customers full training in the use of the equipment and products and remain committed to working with you 24/7 on projects. As a leading authorised Graco Distributor and service centre with factory trained technicians, we can promise our customers 100% commitment and ongoing support for the total system of Elaston-W80, accessories, repairs and the latest tips and tricks.

APPLICATIONS FOR ELASTON-W80
Waterproofing
Retaining walls
Carparks
Rooftops
Balconies
Wet areas
Pool areas
Boats and catamarans
Construction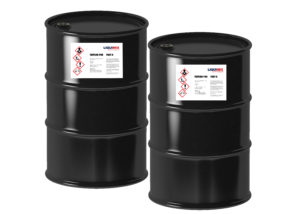 AVAILABLE SIZES
425kg drum set
42.5L pail set
| | |
| --- | --- |
| MIX RATIO | 1:1 with Graco high-pressure, heated, impingement-mix, equipment |
| HARDNESS | 80 (Shore A) |
| ELONGATION | 430% |
| ABRASION | 58 (mg lost) |
| TENSILE | 16 (MPa) |
| TEAR | 9.6 (MPa) |
Approved for use with potable water AS4020

Forms a thick film, seamless lining

Bridges hairline concrete cracks

Smooth and seamless easy-clean lining

Will not flake, peel or blister

Performs even on slightly damp concrete

Environmentally friendly - no VOCs - no catalyst

Low-viscosity and easy to spray