Tufflon-P90FR (Flame Retardant)
FLAME-RETARDANT PURE POLYUREA WITH STANDARD HARDNESS SUITABLE FOR HAZARDOUS LOCATIONS SUCH AS LINING CHEMICAL OR PETROCHEMICAL STORAGE BUNDS 
Tufflon-P90FR is a flame-retardant polyurea, suitable for applications such as flammable liquid storage bunds or explosives storage areas where there is a risk of open flame or spark.
With all the characteristics of Tufflon-P90, such as high hardness, permanent elasticity, corrosion/abrasion and chemical resistance, Tufflon-P90FR has the added benefit of being self-extinguishing.
This is a two-component, 100% solids, spray-applied, elastomeric protective coating that is free of solvents or partially soluble diluents such as Propylene Carbonate.
Specialised, high-pressure, heated, plural proportioning equipment, fitted with an airless, impingement mix, spray gun is required to apply this product.
The flame retardancy is evaluated by several methods and standards. Measuring the time that material will propagate a fire is one of the more commonly used methods (UL-94 & AS ISO 9239.1). A piece of Tufflon-P90FR is exposed to an LPG flame and ignition is observed. The P90FR is removed from the flame and the time taken for it to self-extinguish is recorded. Once the flame has extinguished, the test is repeated on an area previously exposed to the flame.
Applications for Tufflon-P90FR (Fire Resistant)
Self-Extinguishing lining for flammable/explosive environments
Flammable liquid and fuel secondary containment bunds
Protective coatings for hazardous environments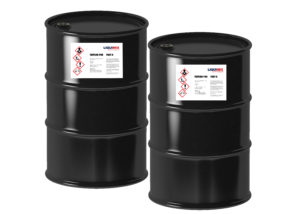 SIZES AVAILABLE
425kg DRUM SET
42.5L PAIL SET
Features of Tufflon-P90FR (Flame Retardant)
High resistance to chemicals

Contains no volatile or flammable solvents or catalyst

Remains permanently elastomeric

Withstands temperatures up to 120°C

Application not affected by temperature or moisture

Will not flake, peel or crack