ColourTuff® A90 | Aliphatic Polyurea
PREMIUM ALIPHATIC PURE POLYUREA
ColourTuff® is 100% colour stable, which means it will not turn yellow or change colour even when exposed to sunlight for long periods of time. It is highly abrasion-resistant and remains permanently elastomeric.

When you want a protective polyurea lining with all the advantages of Tufflon® but need it to be colourfast, then you'll want to consider ColourTuff®. Such applications might include caravans and trucks, interiors and exteriors that require protection, sealing and resistance to abrasion, impact and corrosion. 
LiquiMix's range of Tufflon® and Elaston® pure polyurea are based on Aromatic chemistry and will change colour when exposed to UV. This has little effect on their long-term performance. Some colours change faster than others.
When colour change is not acceptable, such as flooring where the colour is a part of the design and aesthetics is important, then you will need an Aliphatic polyurea such as ColourTuff®. Easily processed through plural, airless equipment such as a Graco Reactor, ColourTuff® is the latest generation of Aliphatic Polyurea.
ColourTuff® has all the same properties of Tufflon® and Elaston® such as high elongation, extreme toughness and durability under harsh conditions. It is also resistant to many chemicals. ColourTuff® is relatively expensive and so it is typically applied as a topcoat over Tufflon® or Elaston® to give a system that is both beautiful, durable and cost-effective.

Applications for ColourTuff®
Caravans
Trailers
Trucks
Marine applications (boats/catamarans)
Ponds, water features
Garages
Parking lots
Commercial flooring applications
Playground equipment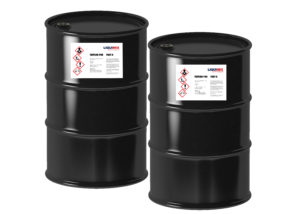 AVAILABLE SIZING
410kg drum set
41kg pail set
| | |
| --- | --- |
| MIX RATIO | 1:1 with Graco high-pressure, heated, impingement-mix equipment |
| HARDNESS | 90 (Shore A) |
| ELONGATION | ≥400% |
| ABRASION | <33 (H22, 1000 cycle) |
| TENSILE | >16 |
| TEAR | 98 N/mm |
Features of ColourTuff® A90 | Aliphatic Polyurea
Colour stable (will not change colour)