RedLine Heavy Duty Tape
RedLine incorporates a transparent, double-sided polyester tape with a unique high/low temperature, chemical-resistant adhesive. RedLine has a high-tack, full body adhesive, developed for difficult applications, particularly useful on most plastic surfaces, including vehicle trim components such as tailgate guards, fender skirts and rocker panel moldings. The signature red-tinted polyethylene release liner is easy to locate, flexible and tear-resistant, important elements for fast tear-off in a production environment. The liner being translucent, also allows for see-through inspection. RedLine is very flexible and conforms to curves and tight corners while maintaining excellent body and feel. RedLine is a premium product, well suited for application to die-cuts and other specialty masking systems. The special physical properties of RedLine allow for quick, residue-free removal.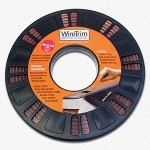 FEATURES OF REDLINE HEAVY DUTY WIRE TRIM TAPE
TYPICAL USES FOR WIRE TRIM TAPE

Better suited for construction than ProLine
Used on most plastic surfaces
Vehicle trim components such as bumper skirts, tailgate guards, mouldings
Sticks well to epoxy primer such as Civilox-11 or Civilox-18
Cuts through polyurea used to coat concrete
ProLine Tape
ProLine is the original double-sided edge-cutting tape, known for its unique high-tack, co-polymer adhesive that sticks instantly while allowing for unlimited repositioning. This is our most popular trimming tape and has become the industry standard, used to trim virtually every type of spray-on truck liner. ProLine can be used to trim everything from medium durometer polyurethane, applied with a low pressure spray system at room temperature, to high durometer polyureas, applied with high pressure at elevated temperatures.
The fine crepe-paper body of ProLine tape allows the applicator to tear the tape manually and position it around curves and irregular surfaces with ease. The unique thickness and body of ProLine enables precise placement and conformity to nearly any shape or surface. The high-tack adhesive also serves to hold the tape in place while sanding or scuffing along the edge and importantly, keeps the filament edge tight to the surface, eliminating a spray-on coating from passing below and past the cutting edge.
ProLine was developed to perform perfectly. The fine paper tape enables access to the filament by hand-tearing of the tape and also permits the filament to glide through the tape and coating without pulling the tape away from the surface prematurely.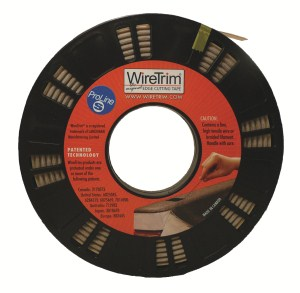 TYPICAL USES FOR PROLINE TAPE
Perfect for spray-on truck bed liners
Use for irregular shapes and curves