Supporting our customers with expert experience through the LiquiMix Service Centre and Shop!
Meet our Technical Service Manager Andrew Ross - the man behind LiquiMix's Service Centre and Shop - proudly one of the largest Graco Service Centres in the Southern Hemisphere.
Not only is Andrew extremely passionate about Graco equipment, but his extensive experience in the field using Reactors, EcoQuip blasters and fibreglass equipment makes him a highly knowledgeable resource for our customers.
"When you buy from LiquiMix you are buying from the LiquiMix Group - a team of experts with many years of experience in the field. You will have access to our chemists, experienced applicators, project managers and equipment technicians - you will never be alone," Andrew said.
If you've ever sent something to us for repairs, or called up for technical support - chances are Andrew has been involved. He is often found on the phone troubleshooting equipment issues with our customers, or elbow-deep in parts as he disassembles and repairs equipment in the workshop.
With a diverse history in mechanics and a knack for fixing almost anything, we've been lucky enough to have Andrew with us for almost five years. During this time he has become one of the most experienced Graco Reactor Technicians in Australia.
Andrew is an expert on the range of Graco Reactors, EcoQuip Blasters and Fibreglass Equipment. His understanding of this equipment and his on-the-job experience means he is quickly and effectively able to respond to our customer's queries, either in person or over the phone.
"By logging into our customer's Graco InSite Reactor App, it is now even easier to troubleshoot any technical issues remotely. It is almost as good as being there in person as I can actually see the error codes and speak to the machine, this way we can do so much more to help," Andrew said.
"Not only can we support customers with their technical and application concerns, we stock a huge range of spare parts which can be fitted in our workshop or we post all over the country within 24 hours depending on your location," Andrew said.
Being dedicated to supporting our customer's success means providing personalised technical support that helps our customers deliver on their projects effectively, accurately and on schedule. This support is an area where Andrew simply excels - his passion and enthusiasm is contagious, LiquiMix would not be the same without him!
OUR SUCCESS IS GOVERNED BY YOUR SUCCESS!
LiquiMix prides itself on being dedicated to the success of our customers - supporting them throughout the entire process from choosing the correct products and equipment, maintaining the equipment, providing spare parts, thorough training on product and equipment and comprehensive in-person and remote technical support.
WE STOCK A HUGE RANGE OF SPARE PARTS
From our Brisbane Warehouse and Service Centre, we stock thousands of Graco spare parts which are usually posted on the day they're received.
WE HIRE EQUIPMENT
We understand the significant investment involved for small businesses to purchase equipment - particularly while you work to achieve a steady stream of projects. Let us help by hiring you the equipment - either for the long-term or for a project here and there. Our goal is to help your business succeed.
WE PROVIDE TRAINING
Comprehensive equipment and application trainings are held throughout the year, or on request for groups or individuals. Let us take the confusion out of the set up, maintenance and use of your Graco Equipment - whether you are an established applicator or new into the field.
Above: Technical Service Manager, Andrew Ross demonstrating the Graco CS Gun in our Training Booth at the Brisbane premises. Andrew is in charge of the LiquiMix Service Centre, one of the largest Graco Service Centres in the Southern Hemisphere.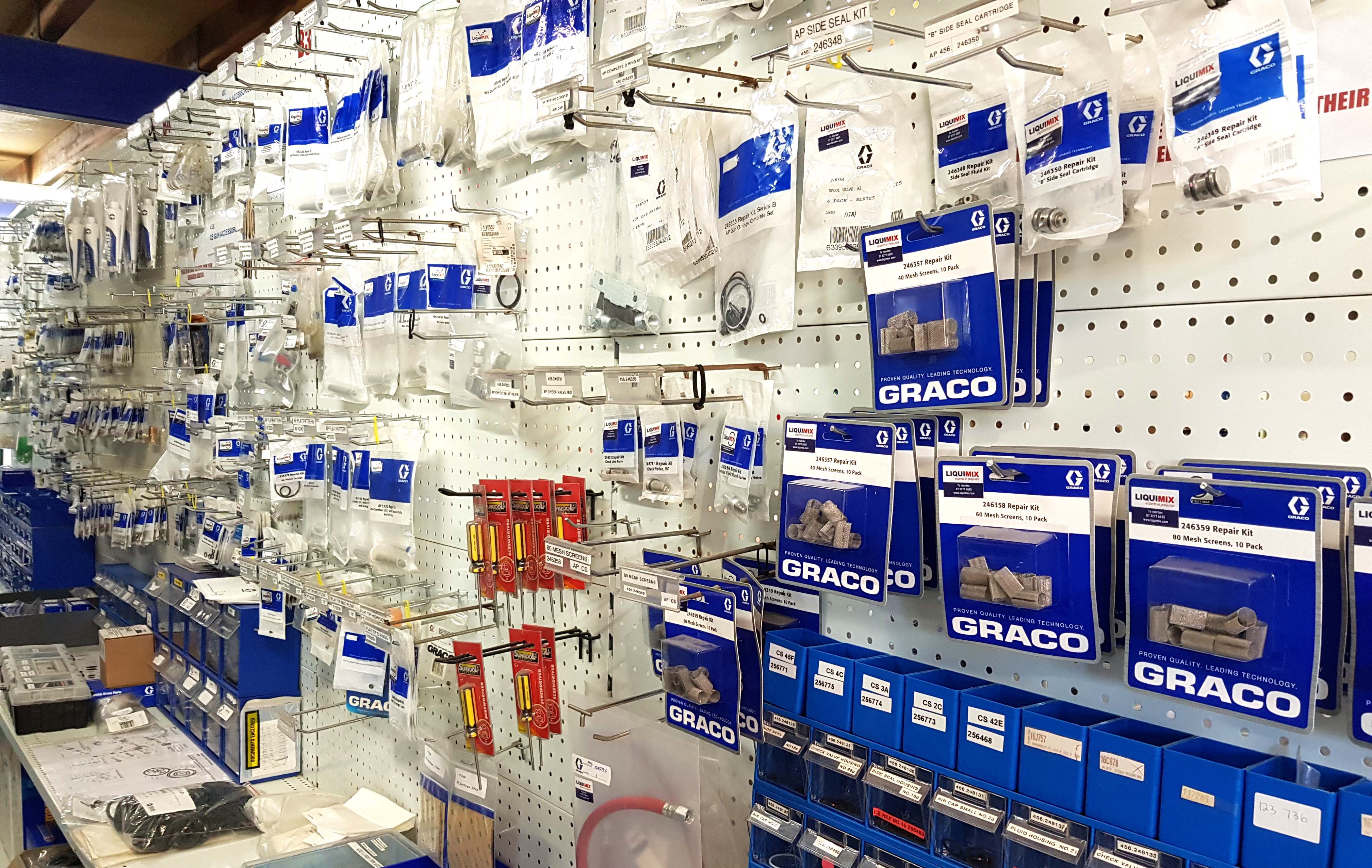 Above: The LiquiMix Shop stocks the largest range of Graco Equipment for Reactors, EcoQuip Blasters, Single-component spray equipment, Fibreglass Equipment and much more!
Above: Technical Service Manager, Andrew Ross and Machine Technician Pieter Eversteyn in the LiquiMix workshop.